Look at this adorable cookie cutter that
Jen
from
3 Cheers for Corgis
sent me!! I die.
You may recognize this corgi character from Jen's blog, "
My Dog Henry
" (you may also recognize Henry from the
1st Annual Corgis with Blogs Calendar
;) ). I was so excited when I got it and couldn't wait to go bake some cookies!! Along with the cookie cutter, Jen provides you with a recipe for sugar cookies and cookie icing (how thoughtful!). The recipes look awesome, but I was in a hurry and wanted COOOOOKIES NOW, so I just ran to the store and bought a cheapo mix and a pouch of icing *holds head in shame*. The result was still tasty and adorable :)
The cutter works really well. I didn't have much trouble cutting out the shapes and there wasn't really any sticking or anything.
Into the oven with you!
They come out and get fat, it's so cute!
I was kind of lazy when it came to icing.. this was about as creative as I came up with...
I will have to be as awesome and Jen and decorate them like she did one day! How adorable is this?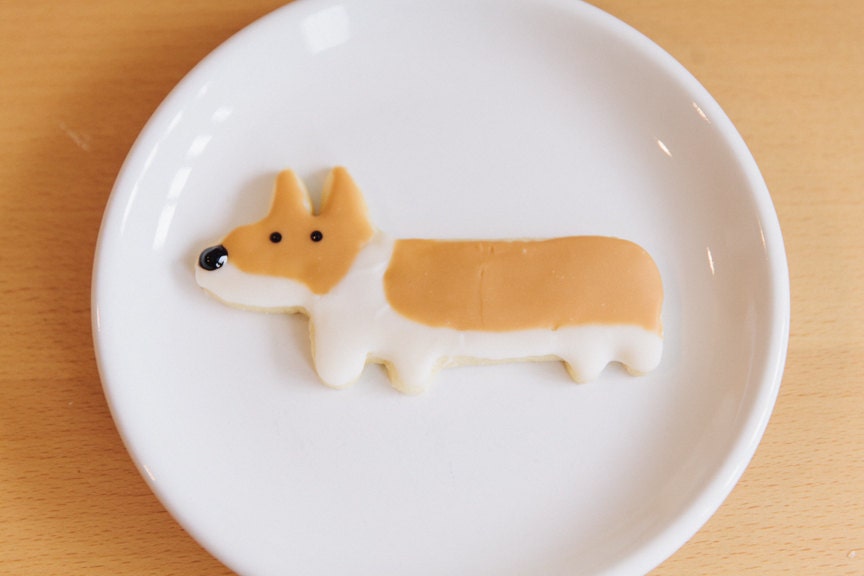 And for Christmas cookies, you could add a Christmas collar! Squee! that'd be so cute :)
You can buy this
Corgi Cookie Cutter
at Jen's Etsy store, here:
http://www.etsy.com/listing/168288344/corgi-cookie-cutter